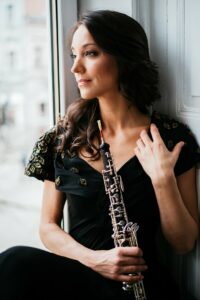 Born and living in Serbia, Sanja Romić holds both Serbian and Slovenian citizenship, which she earned upon her artistic achievement while working and living in Slovenia. Her CD "Melodies of Nations" with Irish pianist Fionnuala Moynihan by Hedone Records in London and Metropolis Music in Serbia is project that celebrates universal language of music and its cohesion with other arts while promoting the wealth of cultural and international dialogue.
During the pandemic in 2020, she initiated educational platform Music Stories project. In 2016 she founded mentorship program for musicians "Playing with Ease" and in 2018 International Oboe fest Serbia. She initiated establishment of the NS Chamber Ensemble within NOMUS Festival in her hometown and their activity flourished during the pandemic in 2020 and continue to do so in 2021. She willingly explores contemporary music and new repertoire for the oboe. Nimrod Borenstein (UK) and Airat Ichmouratov (RU-CAD) dedicated their compositions to her.
As a recipient of the Soros Foundation Scholarship, Sanja graduated with honours at Budapest's Liszt Ferenc Academy with Peter Pongratz and Gabor Dienes and afterwards at Mozarteum University in Salzburg with professor Stefan Schilli.
Since 2011, Sanja holds position of the Solo Oboe of the Belgrade Philharmonic Orchestra. Additionally, she has been a docent for Orchestral studies for woodwind department at the Academy of Arts in Novi Sad since 2016. She was appointed as youth orchestra mentor of The Al Bustan Festival Orchestra Academy in Beirut and Filhademia Orchestra Academy of the Belgrade Philharmonic Orchestra. Operatic orchestra experience she gained as the Solo Oboe of the National Opera and Ballet Theater in Ljubljana, Slovenia. She regularly gives masterclasses worldwide and appears as a jury member of international competitions for wind instruments.
Along with her intense orchestral activities, Sanja is highly active as soloist. Recent engagements include Frigyes Hidas Oboe Concerto with Vojvodina Symphony Orchestra and maestro Srboljub Dinić, Gala opening of the Al Bustan Festival in Beirut with Cimarosa Oboe Concerto and maestro Gianluca Marciano, Mozart Oboe Concerto with Macedonian Philharmonic Orchestra under Michal Nesterowicz, Vaughan Williams Oboe Concerto with Belgrade Philharmonic Orchestra and maestro Howard Griffiths.