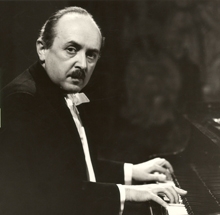 One of the most eminent Croatian pianists, Jurica Murai, was born on 26th of March 1927 in Varaždin where he gained his first music education. From 1935 he was a private student of professor Svetislav Stančić in Zagreb. During the Second World War he attends the Budapest Music Academy F. Liszt in the class of professor B.Bőszőrmény-Nagy and after the war he continues his education at the Music Academy in Zagreb in the class of professor S. Stančić. He graduated from his studies in 1950 and got the Klaić prize. As a French government scholarship holder he studied in Paris in the class of Marguerite Long, and at Accademia Chigiana in Siena he attended the master classes of Guido Agosti and Alfred Cortot.
From 1951 to his death on 26 January 1999 he worked at Piano department at the University of Zagreb Music Academy, first as an assistant of professor Stančić, and from 1966 as a full professor and head of Piano department in 2 mandates. He retired in 1994.
Jurica Murai is one of the most exceptional representatives of "the Zagreb pianist school". His interpretations were distinguished by a sovereign technique and an excellent knowledge of stylistic features with the real sense for measure. He possessed subtle musicality, poeticsm, an amazing tone palette, a perfect taste in music, as well as the evidently great general knowledge.
Murai performed in many cities of Croatia and former Yugoslavia, as well as in foreign countries: Italy, Switzerland, Spain, countries of former USSR, Austria, Greece, France, Germany (East and West), Belgium, Netherlands, Sweden, Poland, Czech Republic, Slovakia, Bulgaria, Romania, Canada and other countries.
He performed with the world leading orchestras, among others the Leipzig Gewandhaus Orchestra and the French National Radio and Television Orchestra, as well as the Zagreb, Slovenian, Macedonian and Belgrade philharmonic orchestra, and also the orchestras in Leningrad, Budapest, Antwerpen, Warsaw, Vienna, Dresden and other cities under the baton of eminent conductors such as Lovro von Matačić, Milan Horvat, Boris Papandopulo, Mladen Bašić, Pavle Dešpalj, Vladimir Kranjčević, Anton Nanut, Oskar Danon, Samo Hubad, Carlo Zecchi, Friedrich Zaun, Kurt Masur, Paul Kletzki, Kiril Kondrašin, S. Popov, Jean Fournet, George Sebastian, Ottmar Suitner, Győrgy Lehel, Fabien Sevitzky, Stanislaw Skrowaczewski, Carl August Vogt, Dieter-Gerhard Worm, Igor Stravinski, Robert Craft and many others.
Jurica Murai's repertoire included an imposing list of works for piano literature – from the baroque era, pre-classical period, over romanticism and impressionism, all the way to contemporary music. As a chamber musician, Jurica Murai is an outstanding member of a piano duo with the pianists Ivo Maček, Darko Lukić and Stjepan Radić, performing original pieces for piano four-hands, for two pianos. With repertoire for two pianos and orchestra, they performed works of Mozart, Poulenc, Bach, Brahms, Britten, Papandopulo, Matačić etc., and achieved remarkable success in the country and abroad (Austria, Germany, Canada…).
Jurica Murai also cooperated with numerous eminent instrumental and vocal artists, among whom one should point out Isaak Stern, Antonio Janigro, Ruggiero Ricci, Tonko Ninić, Josip Klima, Zlatko Baloković, Vladimir Ruždjak, Sena Jurinac, Marijana Radev, Ruža Pospiš Baldani, Josip Gostić, Eleanor Steaber and many others.
Jurica Murai premiered or participated in premieres of Croatian composers, members of different stylistic periods (Luka Sorkočević, Toma Resti, Fortunat Pintarić, Leopold Ebner, Josip Raffaelli, Ferdo Livadić, Vatroslav Lisinski, Natko Devčić, Boris Papandopulo, Božidar Kunc, Milo Cipra, Lovro von Matačić, Dora Pejačević). In Croatia he also premiered some compositions of F. Schubert, F.Liszt, P. Hindemith, I. Stravinski, F. Poulenc, W. Lutosławski, G. Bacewicz.
He participated in realization of more significant collective and independent projects, e.g. in TV cycle on Croatian piano music history, in common integral performance project "Das Wohltemperierte Klavier" of J. S. Bach (with 10 preludes and fugues), and in common project of performing all 32 sonatas of L. van Beethoven (5 sonatas).
Together with violinist Josip Klima he performed all 10 Beethoven's sonatas for violin. Among these projects there are 6 sonatas for harpsichord and violin by J. S. Bach realized with violinist Tonko Ninić, 18 sonatas by D. Scarlatti to mark the 10th jubilee of the Varaždin Baroque Evenings and all 5 concerts for piano and orchestra by L. van Beethoven with two more recitals with 6 sonatas that Murai performed in September 1981 in Dubrovnik. In the European Year of Music in 1985 on the occasion of the 15th Varaždin Barogue Evenings a celebration for Jurica Murai was organized to mark 45 years of his public performing and 35 years of artistic work when he performed 4 suites by G. F. Händel.
Jurica Murai often participated in ceremonial and jubilee concerts and festivals: jubilee concert on the occasion of the 1000th performance of the Dubrovnik City Orchestra (12/9/1967), celebration of the 25th anniversary of the same orchestra (27/5/1972), Evening of Dora Pejačević's compositions on the occasion of the 50th anniversary of the composer's death (Zagreb, Croatian Music Institute, 1973), jubilee concerts of the 25th and 30th Dubrovnik Summer Festival (1974, 1979) when the record of the old Dubrovnik music was promoted, and Murai participated in performing piano pieces by Luka Sorkočević.
It is important to point out that Jurica Murai was constantly preoccupied with publishing critics on pianist literature, as well as with redaction of pianist compositions, e.g. 10 sonatas by W. A. Mozart, Notturno by F. Livadić, selection of piano compositions by L. Ebner, compositions for piano by I. Zajc, sonata in b minor by D. Pejačević, Concertino for violin and chamber orchestra (published by the Croatian Academy of Sciences and Arts and other publishers).
Jurica Murai's concert activities review includes over 800 concerts (out of which more than 40 international tours) in cooperation with 38 foreign and about 32 native conductors, 27 European and 18 Ex – Yugoslavian orchestras.
Only one part of Murai's musical achievements has remained recorded on about 30 CDs published at our country and abroad.
There are numerous awards and recognitions given to Jurica Murai for his his versatile and valuable reproductive activities that testify about his reputation and signifcance: "Vladimir Nazor" – annual award (1970) and Life Achievement Award (1993), "Milka Trnina" (1959 and 1972), the City of Zagreb Award (1962), "Zlatna lira" (Golden Lyre, 1970), "Ivo Tijardović" (1978), "Ivan Lukačić" (1985), "Lovro Matačić Lifetime Achievement Award" (1996), and he received the highest honour in 1997 when he was chosen for a permanent member of the Croatian Academy of Sciences and Arts , thanks to his superior pianism and activities in musicology. He performed at numerous national and international festivals. He is represented in music encyclopedias of Croatia, Yugoslavia, Great Britain and Netherlands.
Jurica Murai is one of the founders of the Varaždin Baroque Evenings, where he performed the whole list of master programmes, as a soloist or with an orchestra. Professor Murai was a member of both Programme and Organization Board and Festival Council from the festival foundation in 1971 to his premature death. It is important to mention that the town of Varaždin has given recognition to its meritorious citizen by putting a memorial onto house where he was born (Matrix Croatica and the Varaždin Baroque Evenings), and on the occasion of the 5th anniversary of his death in 2004, a promenade between the Croatian National Theatre and renovated park in the very centre of town was named after him.
A less known note on Jurica Murai's life so far, which is worth to mention, is his encounter with Igor Stravinski, one of the greatest contemporary composers of a time, in 1963 in Zagreb. It was during the Music Biennale (12/5/1963) on occasion of which Murai premiered Stravinski's piece "Movements", when the composer himself conducted the orchestra (in the 2nd part of the concert Robert Craft replaced him).
During his work and lifetime, academician Jurica Murai follows the great tradition of both Croatian and world pianism, raising in that tradition his numerous students, many of them nowadays outstanding for their concert and pedagogue activities.
Most of his rich and significant music literature, which consists of more than 1940 titles, was donated in 2004 to the National and University Library in Zagreb as a shared legacy of professor Jurica Murai and his wife, professor Ella Murai – Kovačić.
"With his own interpretations, as well as his professorial influence, Jurica Murai was constantly testyfying the high level of pianism, which is a proof of equally high personal talent and technical and artistic mastery gained."
izvornik / Source:
http://info.hazu.hr/hr/clanovi_akademije/osobne_stranice/murai/murai_biografija/