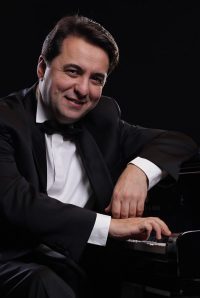 Born in Yerevan, Armenia, Ruben currently lives in Croatia where he serves as a full-time Professor at the Academy of Music, University of Zagreb. He is also a Guest Professor in the International Academy of Music in Liechtenstein, as well as in the "Talent Music Master Courses" in Brescia. Ruben is the President of the Alexander Scriabin Society of Croatia and Artistic Director of Radovljica International Piano Competition in Slovenia.
Ruben raised a new generation of young pianists who achieved tremendous results and became prize winners of various international competitions as Ferruccio Busoni, Queen Elizabeth, Robert Schumann in Zwickau, Ettlingen, etc. Some of them as Ivan Krpan and Aljosa Jurinic succeeded to make an outstanding international career and became one of the most successful pianists of the young generation.
As part of his pedagogical work, he holds masterclasses on a regular basis in Croatia and abroad. His noteworthy projects include the founding of the piano summer school in Makarska, Croatia in 2005 together with Julia Gubajdullina. The seaside piano master course has since evolved into one of the most prominent events for young pianists in the region.
He studied in Komitas State Conservatory of Yerevan, Gnesin Russian Academy of Music and Moscow Tchaikovsky Conservatory under the guidance of Anahit Shahbazyan, Arthur Berngardt, and Valery Kastelsky. His professional and personal formation has been greatly influenced by a number of outstanding musicians such as Boris Berlin, Lazar Berman, and Alexis Weissenberg.
Ruben is a winner of many prestigious international piano competitions in Armenia, China, Croatia, and Italy. His concert tours include numerous countries. The performances range from solo recitals and concerts with Symphony orchestras to participation in chamber ensembles – a piano duo with his wife Julia Gubajdullina and the well-known "Amadeus Trio Zagreb" to be mentioned.
As a pianist he gives special attention and dedication to the promotion of the works of Armenian composers, interesting and original music inseparably linked to the culture of his native country. In collaboration with the Croatian Radio and Croatian Music Institutе, he recorded the entirety of the piano opus of the famous Croatian composer Blagoje Bersa. For this double CD, Ruben received the highest acknowledgment of the Croatian Ministry of Culture – "Vladimir Nazor Award" for greatest achievements in music and arts.