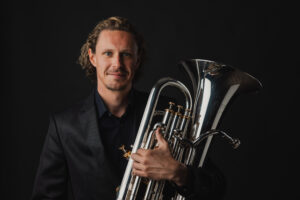 After graduating from the art school of the Maribor Conservatory, he continued his education at the Academy of Music in Ljubljana and in 2014 with honors and special commendation (Diploma summa cum laude) he completed his master's degree in the class of Professor Darko Rošker. During his schooling, he participated in national and international competitions and achieved outstanding results. He perfected his knowledge with world-renowned professors such as Øystein Baadsvik, Steven Mead, Thomas Rüedi, Roger Bobo, James Gourlay. He regularly collaborates with the Slovenian Philharmonic Orchestra, and occasionally with the RTV Slovenia Symphony Orchestra, the Slovenian Brass Band, the Slovenian Philharmonic Brass Ensemble, and the Maribor Conservatory of Music and Ballet Orchestra. As a student, he also collaborated with the symphony orchestra and the Big Band of the Academy of Music in Ljubljana.
He organizes and participates at summer schools, seminars, solo concerts, concerts in various chamber groups and performs as a soloist with various orchestral ensembles at home and abroad. He is also a member of the jury at various international competitions at home and abroad.
His pupils and students achieve exceptional prizes at the Competition of Young Slovenian Musicians and international competitions. Under his mentorship, some have successfully passed entrance examinations at music academies in Slovenia and abroad. He is the recipient of the Prešeren Student Award.
Since 2013 he has been employed at the Conservatory of Music and Ballet in Maribor, leading the wind orchestra GŠ Center. Since 2017, he has also been teaching at the Academy of Music in Ljubljana.