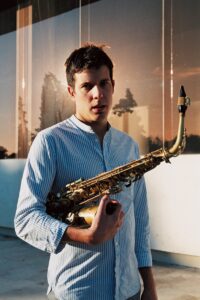 Gordan Tudor is one of his generation's leading musicians, active as a soloist, chamber musician, composer and a pedagogue who performed all around Europe and North America.
As a performer, he regularly collaborates with composers such as Petar Bergamo, Dubravko Detoni, Pavle Dešpalj, Mirela Ivičević, Matthias Kranebitter, Margareta Ferek Petrić, Frano Đurović, Ana Horvat and as a composer his music was performed on major music festivals
around the world (MBZ, MIT Taiwan, BOAC at Mass Moca, Re:Formers Festival Moscow, WSC Zagreb, Neu Musik Heilbron, Neukollner Originaltone, Festival Ljubljana, Izlog suvremenog zvuka, Audio Art, Sax Open Strasbourg, Vienna Sax Fest, Szczecinek Summer Festival, Sax Only Antwerpen, Mallorca Sax Festival, Osorske glazbene večeri, Glazbena tribina Opatija, Dubrovačke ljetne igre, MAG Festival, PianoLOOP etc.) Gordan leads an international saxophone class at the University of Split Arts Academy (UMAS) and until recently he was a guest professor of Saxophone at the Art Academy in Novi Sad (AUNS). He is often asked to give masterclasses and is a frequent member of juries on international saxophone competitions.
Mr. Tudor is alto saxophone player of highly acclaimed Papandopulo Quartet, soprano saxophone player in Trio GIG and he is a founder and artistic director of ensemble for contemporary music S/UMAS. He studied with eminent professors; Dragan Sremec (Zagreb), Arno Bornkamp (Amsterdam), Claude Delangle (Paris) and Eugene Rousseau (Salzburg).
In 2015. Gordan published his first album with new Croatian music for Saxophone, released by CANTUS and won 3 Porin Awards including one for "best interpretation in classical music".
From 2009 until 2017 he was an artistic director of the New Music Days Festival in Split which annually hosts eminent musicians from all over the world. Gordan spent summer of 2011 in residence at the Bang on a Can Summer Festival – Massachusetts Museum of Contemporary Art (North Adams, MA).
He is a multiple award winner on national and international competitions (Diploma Milka Trnina, Grand Prix at 3rd Berlin Music Competition, PBZ Zagreb Philharmonic Award for best young musician, Rector's Award, Judita Award, Composition Compettion Mare Nostrum, Berlin, Lions Club Grand Prix, Rudolf and Margita Matz Fond Award etc.).
Gordan is a Selmer Paris and D'Addario artist.