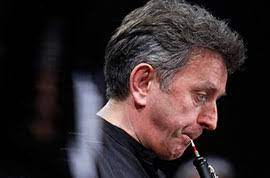 Branko Mihanović was born in Zagreb where he finished elementary school and high school of music, the main subject of oboe with prof. Željko Veršić. He enrolled in the Music Academy in Zagreb with prof. Ivo Olupa to continue his studies at the Hochschule für Musik und darstellende Kunst in Freiburg, Germany, in the class of prof. Heinz Holliger where he graduated in 1978. From 1979 he acted as the first oboist in the orchestra of the Opera of the Croatian National Theatre in Zagreb, and from 1984 to 2001 as the solo oboist of the Zagreb Philharmonic. For many years he has regularly collaborated as the first oboist with the HRT Symphony Orchestra in Zagreb, Zagreb Soloists, Croatian Baroque Orchestra, Varaždin Chamber Orchestra, Croatian Chamber Orchestra. Since 2001 he has been an assistant professor at the Music Academy in Zagreb, and since 2018 a full-time professor at the same institution. In 2005, he was appointed director of the Opera of the Croatian National Theater in Zagreb, for a full two terms. In 2016, he was appointed artistic director of the national festival Osor Music Evenings
He has performed as a soloist with numerous Croatian and foreign orchestras such as the Zagreb Philharmonic, HRT Symphony Orchestra, Dubrovnik City Orchestra, Slovenian Philharmonic, Macedonian Philharmonic, Belgrade Philharmonic, Sarajevo Philharmonic, Bratislava Symphony Orchestra, Sacramento symphony orchestra, Caves, Orchestras Varaždin Chamber Orchestra, Croatian Chamber Orchestra, Croatian Army Symphony Wind Orchestra. He has also performed solo performances in Argentina, Austria, France, Germany, Italy, China and the Czech Republic.
During his artistic career he was a member of many chamber ensembles: Zagreb Wind Trio, Croatian Chamber Octet, Baroque Ensemble Musica Viva, Zagreb Wind Ensemble, Ensemble ZF Acoustic project, Cantus Ensemble, Trio Opera Souvenirs (flute, oboe, piano), Croatian Baroque Ensemble. He made numerous recordings for Croatia records, Orpheus, Aquarius records, Cantus and the needs of Croatian Radio. He is the winner of the "Milka Trnina" Award of the Croatian Society of Music Artists.